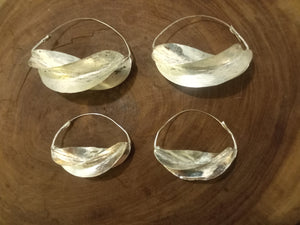 SILVER TONE FULANI earrings
Classic and Authentic...

Our Fulani earrings are made by in-house artisans in the northern and upper east regions of Ghana. Handcrafted, by artisans who have been metalworking in Ghana for 2-3 generations. Perfect gift for the earring lover or anyone who loves statement pieces.
Small: 1.5" wide / 1.5" long
Large: 2.5" wide / 2" long
Extra Large: 3.5 wide / 3" long
Beautiful dressed up or down. These rare pieces will definitely draw compliments and make the wearer stand out!