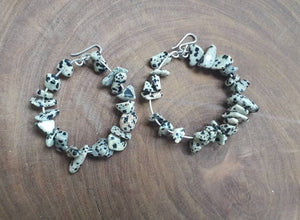 DICE AGATE dangling hoop earrings
Our agate dangling hoop earrings are made from natural stones from Mali. Each stone piece is unique, varying slightly in size, shape, and color, making each pair of earrings unique.
THIS pair is dice agate and approximately 2 inches in diameter.
Other pairs are solid river blue and dice/river blue mix (see others here: https://bit.ly/2Pjo6Hj).
All are handmade and of limited quantities.
Ethically made in Ghana. Ships from Atlanta, GA.